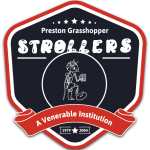 The Wit and Wisdom of - Ken Cunningham (arguably the fastest winger in the world)
---
On Paul Hatton having done the unthinkable and left the changing room at Bective Rangers (?) to warm up*: "He's grazing with his fellow gazelles."
 * ED's note: Apparently the act of running around, bending and doing other unmentionable things before a match as a way of wasting energy.
On Martin Hothersall having wandered out into a Force 10 gale in the North Sea and come back drenched: "The original Saline Drip".
On making G&T's in a bucket at the back of the bus in proportion 3 bottles of gin to 3 of tonic. "You can tell if it's too strong when you put the lemon in as it sinks to the bottom."
On trying to catch up swiftly moving jinking outside centre Millward-Hopkins, the call of 'On your left, Simon!', 'On your right, Simon!' was followed finally by 'On your bloody own, Simon!'
Another Cunningham Triumph – On the trip to Twickenham, 1986 – or "Well then, just how many tickets are you short?"
After an interestingly restrained Friday evening and a cultured over-night recovery on the various upper floors of the Harlequin pub in Twickenham, hungry Strollers ventured forth looking for breakfast on the morning of our match against Ealing to be followed by England v Wales at Twickenham.
For possibly the only occasion, Cunningham was not in the vanguard of the marauding troop. Walking casually behind the main body his sweatshirt caught the attention of a well-heeled chap who asked for its derivation. On being told the history of the team and the club, said gent explained that he had played for Cheltenham against Hoppers in the 1969 Centenary game.
On further enquiry about our intentions for the afternoon, Ken explained that as we had insufficient tickets for the international, a number would be forced to watch the match on TV. The immortal words, "Well then, just how many tickets are you short" resulted in his reaching into his car for a sheaf of spare tickets. We paid face value for a bunch of tickets that would never have emerged without Ken's fine line in conversation with a total stranger.