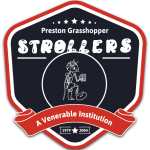 The Matches - Old Brodleians in the fog
---
Old Brodleians from Hipperholme in Yorkshire were one of our favourite opponents' for not only were matches always close but they had a similar outlook to us and there was always the Roses Rivalry. However on this particular Saturday we weren't that keen on playing. It was a miserable wet, dank day at their place and the fog was thickening so the far side of the pitch couldn't be seen.
The referee diplomatically asked both teams to decide if they wanted to play and the Strollers democratically voted on the matter. Eight hands only went up in favour and as the mathematically unchallenged will appreciate that meant we were playing as eight is more than half fifteen.
So out we all trooped and the fog got thicker and thicker. It got to the point that touch could not be seen from the centre of the pitch and if a Garryowen went up it was a question of listening for the bounce rather than watching the ball. The match needed a gifted strategic thinker to adapt our game to the conditions and come up with an initiative. Unfortunately all we had was Max at fly half but he came up trumps. Every time the ball came into his hands he hoofed it downfield as far as it would go and it disappeared into the mist. Every time he claimed it must have gone over the dead ball line and under the law then operating it was a 25 drop out (22 drop out to you youngsters). This only resulted in a repetition as we fielded the ball and got it to Max.
Somehow at one point we managed to vary play enough to actually score and as a result won the match.
At the post match inquest an effort was made to identify the eight idiots who had voted in favour. It was only at that point that Bill Roberts confessed he had voted despite only being there as a spectator.