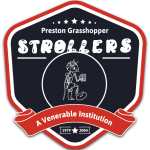 February 2017 Strolling Walking Rugby
---
That fateful Tuesday evening an aged and disreputable crew gathered at Hoppers for a briefing.  This concerned the Laws of Walking Touch Rugby, and was delivered by Referee Duncan Turner with far greater assurance than he ever showed for 'contact 15s'!!  This was the prelude to Keith Aitchison's Finest Hour, having convinced a fine gaggle for Strollers that (a) they owed it to themselves to at least have one game on the AGP, (b) that 'Walking Touch Rugby' couldn't possible harm even the most delicate soul, could it, and (c) a freezing night in February was just the time to put this to the test!!
Two teams were picked, playground fashion, by the non-playing Captains, John Heritage (man-flu prevented playing) and Brent Horton (the last vestige of good sense prevented playing), and the result is seen in the photo (with Martin Hothersall behind the camera).
As you can imagine, a game without mauls, rucks, scrums and lineouts was not exactly tailor made for the personnel involved, but fun was had by all, and Duncan's explanations seem to have engendered much more player comprehension than shown in Twickenham the Saturday before*. Interestingly, the 'slippery, slidey, glidey' players were slipping sliding and gliding as ever, but they were SO much more manageable at walking pace – with 'standing there and waving your arms' a much more justified tactic! Unsurprisingly, the result after an hour's striding about was a resounding draw.  An attempt was made to separate the sides by a drop-goal competition, and after about 10 minutes a low susurration might well have been the goalposts laughing!!
Afterwards pie, peas, ale and singing, and a general acclaiming of an evening well spent! Many thanks to Aitchie, and if there's a next time let's wait for it to get a bit warmer!!
A fine postscript was provided by Dick Twiddy, clearly hard hit by The Muse. His thoughts are below – and sum it all up beautifully.
Strolling Rugby 28th February 2017 – Forever Young
In the changing room
men laugh
stupidity reigns
old men
with bionic joints
don kit
on the rugby pitch
for an hour
young again
then in the bar
tales abound
beer flows
comrades once again
age defied for one more day
forever young
*Eds Note: This was the occasion when Italy under Connor O'Shea bamboozled England by not getting involved in rucks and standing "offside" in the midst of bemused English backs.