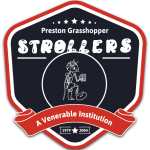 2011 How I acquired a new name
---
It was 2011, and time to tour with the Strollers again. The trip was to Montpellier in the south of France (by train all the way – for most of the party at least) to watch them play Toulon.
A jolly time was soon being enjoyed by all, and spirits were high as we arrived at St Pancras, ready to board the Eurostar to Paris. Through security we went, and on to Passport Control. I got out 'my' passport, only to realise to my horror that it wasn't mine, but my wife's, and that mine was at home in Preston.
Having been escorted back to the concourse by a humourless French official, I texted Hicksie to explain what had happened and to say that I would try to find a flight to our destination, but that I wasn't hopeful – whereupon 'The Great Silverback' did what was only right….and sent him to meet me at the barrier so that I could hand over the tray of beers I had been carrying through for someone else in the party!
All alone now, I made the journey all the way home, and duly found my own passport…..and then things began to get better. Having secured permission from my (wonderful) wife Chris, for the second time that day I got a train to Euston and walked to St Pancras, where I caught a train to Gatwick. An overnight stay in an airport hotel was followed by an early morning flight to Montpellier and a taxi to the tour hotel.
Having missed only one night of the tour and having paid the obligatory (but I must say very reasonable) fine for my stupidity I was then able to enjoy the rest of the trip with my wonderful old pals. It had cost me a lot (in more ways than one), but it was worth every penny.
There were a couple of downsides to my adventures along the way, however.
Firstly, as we were leaving the hotel for the evening's entertainment my roommate (TSKA) made an excuse to return to our room…. where he found my passport and hid it! To be fair, he did own up in the end, and he even bought me breakfast the following morning.
The other consequence was that I suddenly found that I had a new name, one which even now is sometimes still used by members of the Strollers fraternity (including some who weren't even on that tour).
That name is (of course)……Christine.
Geoff (Christine) Tomlinson