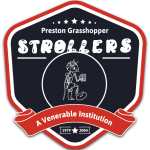 1995 Flemish Salvation
---
Quite when and why Alvin Shuttleworth, Legal Director of British Nuclear Fuels Ltd, decided that a trip to Mechelen with the Strollers would be a good idea is a mystery probably shrouded in several post-meeting pints with Gregg at some little-known hostelry in West Cumbria.  But come he did.  And, with Tom Walsh, brought the number of 'Touring Strollers with Flemish Mothers' up to two.
So we're ready to leave the hotel, the coach has pulled up outside (on a no-parking area) and there are various shades of mayhem while (a) Tim Haley was ladled from his much-besmirched room (see Ex Captain's Shame), and (b) various frisky colts were corralled from nearby bars.  The pandemonium was well advanced when two stern uniformed gentlemen boarded the coach – 'Mechelen's Finest' had come to read the riot act!
'You have been making a public nuisance, and we are NOT amused', they said in perfect English.  'Hello Officers, does there seem to be a problem, I am a lawyer' said Alvin in perfect Flemish.
At this point the policemen decided this was definitely NOT their day and walked off!!